5 Books to Shape your 2017 Knowledge Work Automation Strategies and Budgets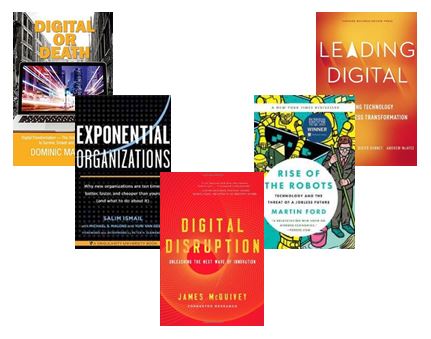 We are now in the fourth quarter and the focus of C-Level executives is turning to 2017 business strategies and budgets. In response we have assembled a list of the top 5 books for B2B executives wanting to scale sales and realize profitable customer engagement in the digital era.
Fasten your seat belts as reading these books may be a shock to your system. If you are not already a convert then these books will take you through necessity of making work digital and how every company is destined to become a platform. If your 2017 business strategy didn't prioritize automating knowledge work then it will after you read these books. All of them clearly document the necessity to remake the digital front door of your business and eliminate high touch manual work from the back office to gain a competitive advantage in today's digital world.
I know finding the time to read is difficult but these books will save you from making the same mistakes as many other businesses who may not have taken the time to understand how to weather the storm of the new Digital Economy. 
I have added some summary information for each book and why they are relevant to companies in the process of transforming their B2B sales processes.
#1. Rise of the Robots by Martin Ford–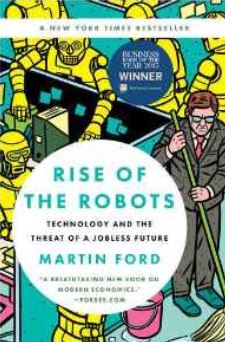 Why I like this book:  This book has won many awards and helps identify the key trends shaping modern workforces.  This book should get you thinking about creating a blended workforce of digital and human workers as soon as possible.  If your B2B sales teams do not have the benefit of digital advisors and digital assistants they will be at a severe disadvantage to competitors that do.
My favorite quotes:
 "We are entering an era that will …. challenge one of our most basic assumptions about technology: that machines are "tools" that increase the productivity of workers. Instead, …Technology has evolved beyond being "tools" to being autonomous workers."
Reviewer summary of this book
Winner of the 2015 FT & McKinsey Business Book of the Year Award
A New York Times Bestseller
Top Business Book of 2015 at Forbes
One of NBCNews.com 12 Notable Science and Technology Books of 2015
What are the jobs of the future? How many will there be? And who will have them? As technology continues to accelerate and machines begin taking care of themselves, fewer people will be necessary. Artificial intelligence is already well on its way to making "good jobs" obsolete: many paralegals, journalists, office workers, and even computer programmers are poised to be replaced by robots and smart software.
#2. Digital Disruption by James McQuivey of Forrester Research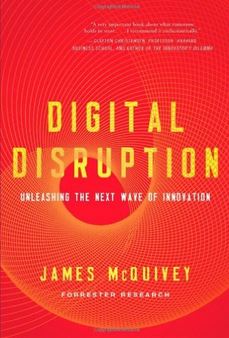 Why I like this book:  This book explains how the digital age has shifted power from businesses to the end customer and how you can embrace digital platforms to gain a competitive advantage.  McQuivey encourages companies to focus on escalating benefits to the customer using digital to create and maintain digital customer relationships - without increasing costs from human resources.
My favorite quotes:
 "Thanks to digital platforms, digital relationships become simultaneously more important and more frictionless, a combination that is idea for rapid innovation."
"A platform is only as powerful as the digital bridge it builds to the customer."
Reviewer summary of this book
The barriers to entry in your market just vanished. Unexpected competitors are swarming in. Are you ready?
You always knew digital was going to change things, but you didn't realize how close to home it would hit. In every industry, digital competitors are taking advantage of new platforms, tools, and relationships to undercut competitors, get closer to customers, and disrupt the usual ways of doing business. The only way to compete is to evolve.
Regardless of your background and industry, you can learn how to be a digital disruptor too. First, adopt the right mindset: Take risks, invest as cheaply as possible, and build on existing platforms to find the fastest path to solving a customer's problem.
Finally, disrupt yourself. Use these tools to make parts of your business obsolete before your competitors do. That's what Tim FitzRandolph did at Disney, creating a game that shot to the top of the app store charts.
With the tools in this book you can assess your readiness, learn the disruptive mindset, and innovate rapidly, starting right within your own business.
#3. Exponential Organizations: New Organizations Are Ten Tmes Better, Faster, and Cheaper Than Yours (and What to Do About It)  by Salim Ismail, Michael S. Malone, Yuri van Geest –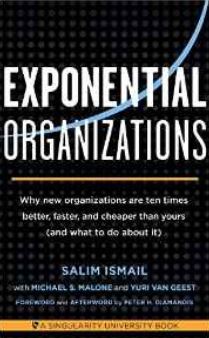 Why I like this book:  This book explains how the doubling pattern identified by Gordon Moore in integrated circuits applies to any information technology.  Ray Kurzweil has dubbed this the Law of Accelerating Returns (LOAR).  It should get you thinking you need to make your B2B sales pathways digital first before your competition does. 
My favorite quotes:
 "Once any domain, discipline, technology or industry becomes information-enabled and powered by information flows, its price/performance begins doubling approximately annually….
"Once the doubling pattern starts it doesn't stop"
Reviewer summary of this book
In business, performance is key. In performance, how you organize can be the key to growth. In the past five years, the business world has seen the birth of a new breed of company - the Exponential Organization - that has revolutionized how a company can accelerate its growth by using technology. An ExO can eliminate the incremental, linear way traditional companies get bigger, leveraging assets like community, big data, algorithms, and new technology into achieving performance benchmarks 10 times better than its peers. Three luminaries of the business world - Salim Ismail, Yuri van Geest, and Mike Malone - have researched this phenomenon and documented 10 characteristics of Exponential Organizations. Here, in Exponential Organizations, they walk the listener through how any company, from a startup to a multinational, can become an ExO, streamline its performance, and grow to the next level.
#4. Digital or Death: Digital Transformation - The Only Choice for Business to Survive, Smash, and Conquer by Dominic M Mazzone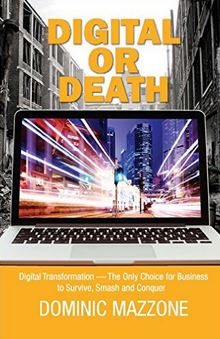 Why I like this book:  This book explains how "business as usual" is a prescription for death in the digital age.  The author emphasizes that every industry has the ability to digitally transform.  When I look at B2B Sales I see companies using the same phone based techniques they have used for the last 30 years.  This book can help people understand that the time for change toward digital sales relationships and pathways is now.
My favorite quotes:
"I think the biggest issue with many CEO's/business owners is the misconception that Digital Transformation is a project.  It's not.  It's a mentality, because digital is always changing and evolving and you need to change with it.  If that's not hard enough, your team also needs to evolve.
That is a difficult task and sometimes your immediate team can be poisoned.  Poisoned because there is a phrase that exists that shuts down many new ideas.  That phrase is, 'Well, that's how we've always done it and it works.'
Reviewer summary of this book:
Digital or Death is the first book on the world of digital strategy that won't bore you to sleep. It takes an entertaining, highly informative real world approach with enough information and energy to get you inspired to innovate. Dominic Mazzone is part digital guru, part comedian, part entrepreneurial titan. He has the uncanny ability to get you thinking in a way you never have before, while creating the motivation you'll need to succeed. If there was a book that could actually increase your drive and expand the creative part of your brain, this is the one. Here's how Digital or Death will change the way you think: • What is Digital Transformation • How to avoid being part of the Digital Die-Off • The Four Pillars of Digital Transformation • How to make Wonder Theory work for you • How to smash your industry through Revolution 4.
#5.  Leading Digital: Turning Technology into Business Transformation, by George Westerman, Didier Bonnet, and Andrew McAfee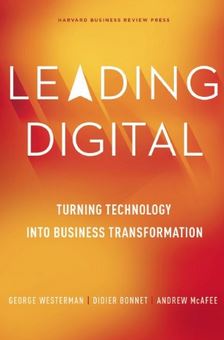 Why I like this book:  This book is a guide to enterprise businesses that need to reinvent themselves for the Digital Era to become a Digital Master.  It makes it clear that if you don't have intelligent self-monitoring digital pathways built into your B2B sales process you will lose.  Every Digital Pathway needs to be its own Digital Analyst finding new business opportunities while removing delays and inefficiencies. 
My favorite quotes:
"Digital Masters will take this torrent of data; combine it with the latest innovations in artificial intelligence, machine learning and visualization; and use the resulting insights to make smarter decisions, see the future more clearly, drive out inefficiencies, and better understand their customers.  Everyone else will fall behind..'
Reviewer summary of this book:
If you think the phrase "going digital" is only relevant for industries like tech, media, and entertainment—think again. In fact, mobile, analytics, social media, sensors, and cloud computing have already fundamentally changed the entire business landscape as we know it—including your industry. The problem is that most accounts of digital in business focus on Silicon Valley stars and tech start-ups. But what about the other 90-plus percent of the economy?
In Leading Digital, authors George Westerman, Didier Bonnet, and Andrew McAfee highlight how large companies in traditional industries—from finance to manufacturing to pharmaceuticals—are using digital to gain strategic advantage. They illuminate the principles and practices that lead to successful digital transformation. Based on a study of more than four hundred global firms, including Asian Paints, Burberry, Caesars Entertainment, Codelco, Lloyds Banking Group, Nike, and Pernod Ricard, the book shows what it takes to become a Digital Master. It explains successful transformation in a clear, two-part framework: where to invest in digital capabilities, and how to lead the transformation. Within these parts, you'll learn:
• How to engage better with your customers
• How to digitally enhance operations
• How to create a digital vision
• How to govern your digital activities
The book also includes an extensive step-by-step transformation playbook for leaders to follow.
Have I forgotten anything? Please let me know at lswanson@exaltsolutions.com.