12 Lessons Every B2B Company can Learn from Dominos about Boosting Digital Sales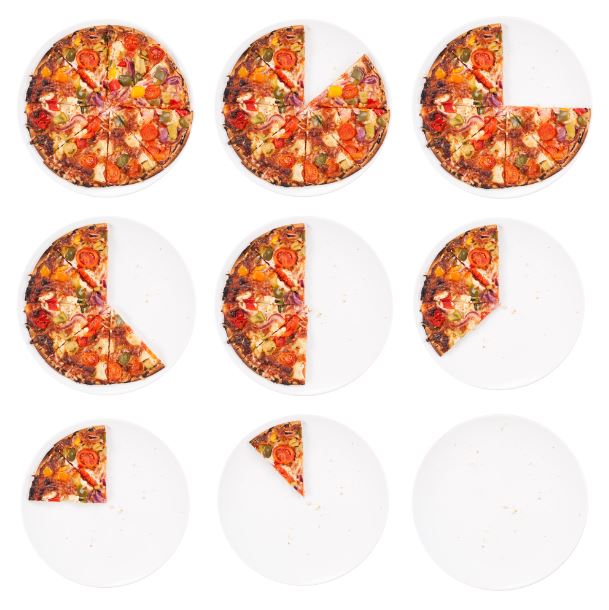 I just read the news today that "Domino's Pizza sales soar despite fast-food slowdown ".  This one paragraph really puts the magnitude of their success into perspective:
"Rivals McDonald's, Wendy's and Burger King have blamed weaker-than-expected growth on cheaper groceries, political uncertainty and other factors, but Domino's didn't report any of those problems Tuesday. It said that sales at U.S. stores open at least a year — considered an important measure of a retailer's health — rose 13 percent in the last quarter from the year before. That's above the 8 percent rise analysts had expected, according to FactSet."
Here is Dominos secret to outperforming an entire industry- they Digitally transformed their customer buying experience faster and better than their competitors.  Dominos has remade their company into a digital platform not just a pizza restaurant chain.  What's more they decided to transform their franchise partners at the same time - a group of independent companies that are not known for their technical expertise. 
Twelve Lessons from Dominos for B2B Companies
I have outlined the lessons that any company involved in B2B sales can take away from Dominos winning formula. 
1. They understood how to make ordering 100% digital and 100% easy:
The article pointed out how "Domino's is in the "forefront" of how Americans want to order and pay for food. Beginning last month, for example, customers could order a pizza through Facebook's Messenger app. Before that, users could text or tweet a pizza emoji to Domino's to send in their order. In April, it launched a no-click smartphone app that automatically orders when the app is opened."
Ease of ordering has helped the company generate consistent sales growth. "The technology portion is a significant part of their sales driver," said Peter Saleh, analyst with financial services firm BTIG.
2. They used digital transformation to steal share from their competitors. 
Their rival Pizza Hut is a follower in the use of digital transformation.  They are not an early adopter and it has hurt them – analysts believe much of Dominos growth is being taken from Pizza Hut due to a poor digital customer experience.  I am sure many executives at Pizza Hut were saying that the company had to be cautious and careful.  Unfortunately taking no risk was the greatest risk of all.  Pizza Hut's sales declined 2% in US same store sales for the same quarter that Dominos jumped 17%. 
3. They made sure no one has to call them - ever
Jim Cramer made the following observation when their stock soared this week:
"Domino's is the ultimate at-home experience, as customers don't even have to call them. They can use the website, or even Facebook or the Apple Watch to order pizza and not have to talk to another human being."
4. They created the ultimate Pizza Solutions Builder that covers every customer use case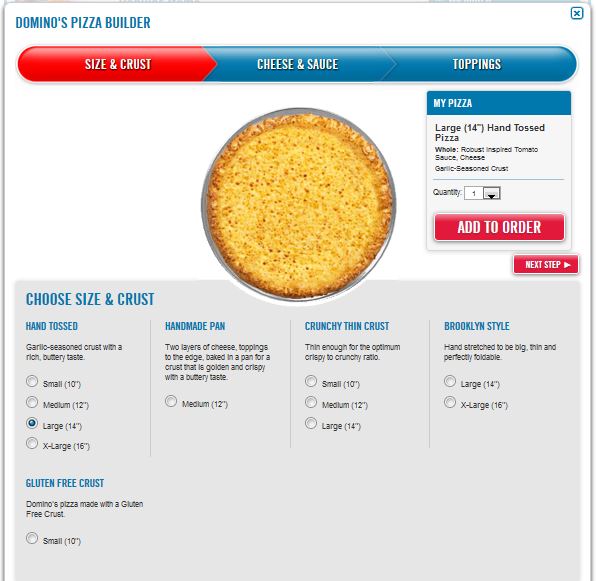 There are 34 million potential combinations of pizza on the Dominos menu.  You can customize building every aspect of a pizza.  Nothing is left out.  You are more likely to get the pizza the way you want it than you could ever get over the phone with a human being.  And it takes a fraction of the time.  Every customer use case is made simple.
5. They created an incentive for buyers to order online to change customer behavior toward a more profitable sales growth model
"The company's year-old loyalty program "significantly" increased orders, Domino's Chief Financial Officer Jeffrey Lawrence, said in a conference call with investors and Wall Street analysts. Customers earn a free pizza after they spend a certain amount on online orders".  It is clear that Domino's understands that digital transformation is the path to profit.  While sales were up 12.9% net income jumped 25% for the quarter!  They can easily afford to reward customers for using a more profitable sales channel.
6. They understood that AGILITY wins in customer experience
We have said it before there are going to only be two types of companies - the quick and the dead.  As consumers started buying smartphones, Domino's Pizza CEO Patrick Doyle put the following goal in front of his IT Team: "Make it so a customer could order a pizza while waiting for a stoplight."  Agility in delivery to the customer won the day for Dominos.
7. They forced their reseller channel (eg franchises) onto their technology platform!
The decision to make franchises purchase a common platform was met with resistance — some franchisees sued.    But Domino's continued to make the system more efficient and less costly eventually winning over the franchisees.
Bringing franchisees onto the same platform allowed Dominos and its partner ecosystem to gain scale and visibility. "It was maybe the most important technology decision made in the last decade at Domino's," Dominos CIO said.
8. They are betting on Digital Assistants
Domino's just rolled out its digital assistant. His name is Dom.  Dom is accessible through various platforms including Ford SYNC cars and Samsung TV sets in what they call the "Anywhere" program.
9. They expect failure and have a "fail-fast" culture
Domino's expects  that failure is part of innovation.  Risk taking is encouraged.  They don't expect things to go perfectly instead they have a "fail fast" culture. They test and analyze to quickly determine what works and what doesn't.
10.  They leverage their Big Data to SIMULATE expected outcomes
Leveraging data to predict outcomes is very different than classical A/B testing.
11.  They took risks on digital transformation at the WORST POSSIBLE time in their company history
Between 2006 and 2008, same-store sales at Domino's  fell a cumulative 10 percent while revenues dropped from $1.5 billion to $1.4 billion. The company had $1.7 billion in debt!
The company was losing franchisees, the company's stock fell below $3 a share in November 2008.  By 2014 it was around $72 a share.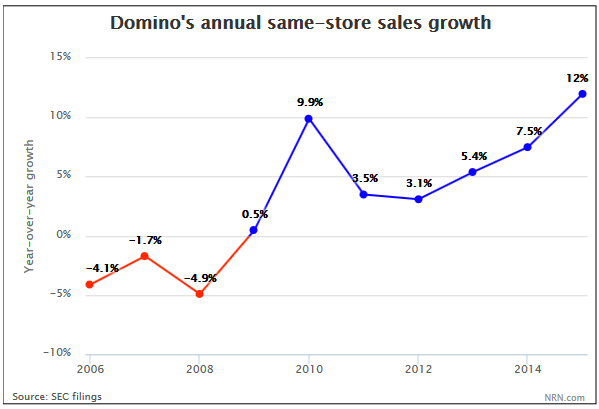 From this graph above you can see when they took the largest risks possible right when they were at rock bottom in 2008/2009.  When they were at their worst:
They digitally transformed their reseller channel – their franchisees
They digitally transformed the buying experience by leveraging the move to smart phones.
They deployed the new digital buying experience quickly
The results were immediately positive.  The first quarter after launching their digital initiatives, same-store sales were up 14.3%, the largest quarterly same-store sales jump ever recorded by a major fast-food chain. In 2013, in annual global digital sales reached $2 billion, of which 35% was driven by mobile.  Today in 2016, more than half of Domino's sales are generated via digital channels, of which 50% is driven by mobile.
12.  Their company is the platform and differentiation is from the platform
Many see Dominos as a tech company that happens to make pizza.  Here are some quotes from their management on this:
Kelly Garcia, Domino's vice president of development says,"It takes a lot of money, and it's complicated to put together, and so it just becomes a major differentiator for us when we look across the landscape of our competitors in quick-service restaurants."

"When more than half of your sales are coming through your digital channels, you are, by default, an e-commerce company," says Domino's chief digital officer Dennis Maloney. "That percent is just going to continue to grow and mobile is becoming a more and more important part of that equation."

CEO Don Meij told CNBC's "Street Signs in 2016." "All of the growth is coming from the technology that we're rolling out,".
The key question you want to ask yourself is do you want to be Dominos or Pizza Hut? 
Have I forgotten anything? Please let me know at lswanson@exaltsolutions.com.